Pomme de Terre Lake
Pomme de Terre literally means "apple of the earth."
Built by the Army Corps of Engineers in 1961 for flood control, Pomme de Terre Lake in southwest central Missouri's Ozark Region, provides 7,820 acres of spring-fed recreational waters. With miles of long and winding coves and inlets, Lake Pomme de Terre is most conducive to excellent fishing.
Pomme de Terre State Park offers scenic hiking trails in an area where open woodlands and savannas present a unique backdrop.
Fishing

Not only does Pomme de Terre Lake provide good-sized bass, walleye, catfish, crappie, the lake's popularity comes from its marvelous Muskie population.
Managed by the Missouri Department of Conservation, the Fish Habitat Structures ensure excellent fishing anywhere on the lake, all year long. Although Pomme de Terre Lake produces most of the sought after gamefish species such as bass, walleye, catfish and crappie, the lake is most well known for its Muskie population.
In fact, according to the Missouri Department of Natural Resources' State Parks' Division, Pomme de Terre Lake is the only lake in Missouri that offers true muskellunge fishing. Muskies caught in Pomme de Terre Lake can be around 40 inches long.
Search Pomme de Terre Lake Resources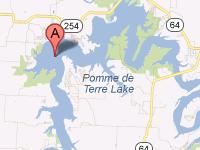 Coordinates:
37.8723N -93.3641W
Map It:
Lake Type:
Reservoir
Surface Area:
7,820 acres
Maximum Depth:
95 ft
Elevation:
839 ft
Normal Water Clarity:
6-10 ft
Major City:
Springfield
Airport:
Springfield