Dewey Lake
Dewey Lake is located in Floyd County near Prestonburg, and it is part of an integrated flood reduction system operated by the United States Army Corps of Engineers for the entire Ohio River Basin. The 1,100-acre lake was formed by impounding John's Creek in 1949. Dewey Lake produced the largest tiger muskie ever taken in the state of Kentucky at thirteen pounds, twelve ounces.
Fishing
Anglers go for bass, crappie, brim, bluegill, catfish and muskie from boats and from the shoreline. Almost one entire side of the lake is bordered by Jenny Wiley State Resort Park, and this is where anglers can fish for largemouth bass, white crappie, bluegill, and channel catfish. Three boat ramps provide easy access to the lake. You can float the headwaters of Dewey Lake to fish Johns Creek from near the Pike County border off Highway 104. The creek is accessible from the German Bridge boat ramp 4.8 miles downstream.
The Kentucky Department of Fish and Wildlife Resources stocks 2,200 rainbow trout near the Johns Creek picnic area below the Dewey Lake dam during April, May, October, and November. A 2.8-mile float trip is possible on Johns Creek from the picnic area below the dam downstream to a pull-off on 2381. Be aware of log jams and deadfall trees that may require portaging around.
Search Dewey Lake Resources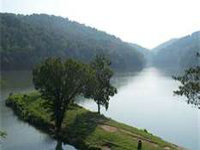 Coordinates:
37.7161008N -82.7205517W
Map It:
Lake Type:
Reservoir
Surface Area:
1,100 acres
Maximum Depth:
40 ft
Elevation:
ft
Normal Water Clarity:
3 ft
Major City:
Lexington
Airport:
Lexington