Cedar Creek Lake
Cedar Creek Lake is located in eastern Lincoln County, Kentucky, between Stanford and Crab Orchard along U.S. Highway 150. The project was a joint venture of the Kentucky Department of Fish and Wildlife (KDFW), Kentucky Transportation Cabinet (KYTC), and the leaders of Lincoln County. Outside Lake Malone, Cedar Creek Lake is the second largest state-controlled lake in Kentucky.
Fishing

If you're into bass fishing, then this lake is right up your alley. Cedar Creek Lake, impounded in 2002, is Kentucky's only impoundment lake managed specifically for trophy-sized bass. The Kentucky Department of Fish and Wildlife Resources stocked this 784-acre lake with several sport fish species, including largemouth bass, bluegill, redear sunfish, black crappie and channel catfish, making Lincoln County an angler's paradise.

During the preparations for Cedar Creek Lake, it was decided to leave all trees and brush to provide a prime fish habitat. A 300-foot buffer zone was established that protects the lake from encroachment. No houses and no private docks are permitted. This allows anglers to have full access to the lake, whether it is using the three boat ramps, the dedicated bank fishing areas, or the handicap accessible fishing jetty. We want to emphasize this again -- this is a fishing lake, not a recreational lake. In order to promote the trophy size, there is a limit of one bass per angler and the fish must be at least 20 inches in length.
Search Cedar Creek Lake Resources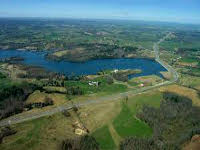 Coordinates:
37.4802N -84.5564W
Map It:
Lake Type:
Reservoir
Surface Area:
784 acres
Maximum Depth:
60 ft
Elevation:
552 ft
Major City:
Danville
Airport:
Lexington