Morse Lake
Morse Lake, located in central Indiana, provides 1,800 acres of recreational water for boating, fishing, water skiing, swimming and relaxing at the beach. With two parks along its 33-mile shoreline, visitors can picnic in the sun or shade, sunbathe on the sandy beach or play volleyball or frisbee golf.
Also known as Morse Reservoir, the lake was constructed by the US Army Corps of Engineers in 1956. Over the years, the reservoir became a popular recreational area and has now become a relocation magnet. As a result, expensive housing developments now surround Morse Lake. Such developments include the convenience of several golf courses, ranges and country clubs around the lake.
Fishing


Morse Reservoir is a popular destination for fishing enthusiasts. Not only does the lake have an abundance of baitfish, it provides the perfect habitat in which bass thrive and grow quite heartily. Wooded areas and sunken logs lend the essential cover for producing a healthy crappie population, as well. Morse Reservoir is also known for good catches of walleye and catfish.
Anglers can fish from shore, docks or boats in coves and idle zones throughout the lake.
Morse Lake holds the state record for producing the largest Yellow Bass caught in Indiana. In 2000, Jim Raymer's catch weighed in at two-pounds, 15-ounces.
Search Morse Lake Resources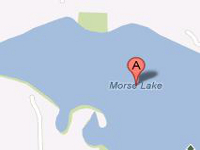 Coordinates:
 40.0734 N --86.0483W
Map It:
Lake Type:
Reservoir
Surface Area:
1,800 acres
Maximum Depth:
42 ft
Elevation:
810 ft
Normal Water Clarity:
2 - 5 ft
Major City:
Indianapolis
Airport:
Indianapolis