Coffeen Lake
Coffeen Lake, located in Illinois' west central region, in Montgomery County, provides over 1,100 acres of recreational waters for year-round enjoyment. An earthen dam, built on Shoal Creek created the lake to serve as cooling waters for the coal-burning, power generating plant owned by Ameren Energy Generating Company, Coffeen Lake is cooperatively managed by the power company and the Illinois Department of Natural Resources (IDNR). Recreational activities are under the control of the IDNR and include hunting, fishing, boating and picnicking.
Coffeen Lake State Park's terrain of oak and hickory forests make the area conducive to harboring a variety of wildlife.
Fishing

Although the operation of the power plant influences fish activity, Coffeen Lake is home to 22 thriving fish species with an exceptional population of largemouth bass, striped bass, white crappie and channel catfish. Site-specific regulations for crappie and bass are posted and enforced.
North of the main access area, near the private campground, boating and fishing supplies and food can be purchased.
The Illinois Department of Natural Resources Division of Fisheries offers "Hook-and-Line" and "Spear/Bow and Arrow" Sport Fishing Awards to recognize anglers for fish caught in Illinois' waters. (See "Resources for this page" to learn more.)
Search Coffeen Lake Resources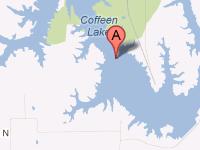 Coordinates:
39.0373N -89.3529W
Map It:
Lake Type:
Reservoir
Surface Area:
1,070 acres
Maximum Depth:
58 ft
Elevation:
589 ft
Normal Water Clarity:
3-6 ft
Major City:
Springfield
Airport:
Springfield