Cedar Lake
Cedar Lake, a man-made reservoir in southern Illinois southwest of Carbondale in Jackson County on the edge of the Shawnee National Forest was created in 1974 by the construction of a dam on Cedar Creek, which is a tributary of the Big Muddy River. Cedar Lake provides over 1,750 acres of multi-purpose waters. Cedar Lake serves as a fishing lake, a swimming lake and a source of tap water for the people of Carbondale, which includes those who attend Southern Illinois University.
With nearly half of the lake's 30-mile shoreline bordering the Shawnee National Forest, it is no wonder why Cedar Lake is known as one of southern Illinois' most beautiful recreational facilities. Cedar Lake allures visitors who enjoy fishing, swimming, hiking, picnicking, horseback riding, and relaxing outdoors amidst the extraordinary beauty of nature's backdrop.
Four trails comprise an extensive 14-mile trail system around the lake for year-round hiking opportunities.
Fishing

The most sought after fish in Cedar Lake include largemouth and striped bass, bluegill, crappie and channel catfish. A successful stocking program has led to successful year-round striper fishing which commonly yields catches weighing more than 20 pounds.
The Illinois Department of Natural Resources Division of Fisheries offers "Spear/Bow and Arrow" and "Hook-and-Line" Sport-Fishing Awards to recognize anglers for fish caught in Illinois' waters. (Click the link at right to learn more.)
Search Cedar Lake Resources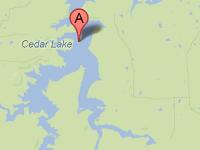 Coordinates:
37.6399N -89.2797W
Map It:
Lake Type:
Reservoir
Surface Area:
1,750 acres
Maximum Depth:
40 ft
Elevation:
432 ft
Normal Water Clarity:
1-10 ft
Major City:
St. Louis, MO
Airport:
St. Louis, MO