Carlyle Lake
The building of the Carlyle Dam across the Kaskaskia river by the US Army Corps of Engineers created Carlyle Lake for flood management. The largest manmade lake in the state, Carlyle Lake (a.k.a. Carlyle Reservoir) flows through nearly 26,000 acres of three counties in Illinois' West Central Region. The lake is approximately 15 miles long by 3.5 miles wide with an 82-mile shoreline. Although trees and gently rolling hills comprise a portion of the land around the lake, the land is mostly flat, which contributes to the lake's vulnerability to changes in wind speed and direction.
Numerous recreational opportunities are available on and around the lake, especially since Carlyle Lake is home to South Shore State Park on the southeast shore, Eldon Hazlet State Park on the southwest shore and the Carlyle Lake State Fish and Wildlife Area on the northern shore in Fayette County.
Boating, fishing, swimming, camping, hiking, and golf are among the many activities available at Carlyle Lake.
Fishing

While Carlyle Lake houses over 30 fish species, the most sought after fish in Carlyle Lake include largemouth, smallmouth and white bass; crappie and walleye and flathead catfish.
Producing 3,260 lbs. of fish per water acre, Carlyle Lake is the most productive fishing lake in Illinois. Providing a healthy habitat conducive to producing quality fish, anglers come to Carlyle Lake with the promise of some excellent catches. In 1995, Jody Harris caught a 78 pound flathead catfish in the spillway.
The Illinois Department of Natural Resources Division of Fisheries offers "Spear/Bow and Arrow" and "Hook-and-Line" Sport Fishing Awards to recognize anglers for fish caught in Illinois' waters. (See "Resources for this page" to learn more.)
Search Carlyle Lake Resources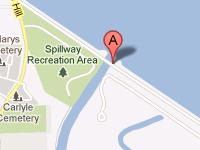 Coordinates:
36.6589N -89.2924W
Map It:
Lake Type:
Reservoir
Surface Area:
26,000 acres
Maximum Depth:
35 ft
Elevation:
445 ft
Normal Water Clarity:
3 ft
Major City:
St. Louis, MO
Airport:
St. Louis, MO