Lake Greeson
Lake Greeson is a beautiful clear lake that was created in 1950 with the Narrows Dam, which impounds the Little Missouri River. Noted for its scenery and great fishing, this reservoir is surrounded by fifteen parks that provide recreational opportunities for the entire family.
This reservoir was known as "Narrows Lake" until 1976, when it was renamed for the man who envisioned this flood control effort, Martin White Greeson. Although Greeson was practical in his efforts, this lake also provides numerous reasons for visiting. This 7,000-acre reservoir and its surrounding 134 miles of shoreline are geared to hikers, boaters, anglers, hunters, bird watchers, and bicyclists. ATV fans can enjoy Bear Creek Trail, the only off-road trail in the Arkansas trail system that is open all year long.
Located north of Murfreesboro in the foothills of the Ouachita Mountains, Lake Greeson offers tons of amenities in an otherwise rural setting. Visitors can find plenty of campgrounds, playgrounds, swimming areas, and picnic sites. Boaters can enjoy houseboat rentals, fishing docks, at least ten boat ramps, and plentiful marinas. Two private resorts also are located at this lake.
Fishing

Lake Greeson features clear waters and numerous islands and long peninsulas that jut into the lake. The lake is recognized for a rich variety of game fish, including black and white crappie, walleye, bluegill, flathead and channel catfish, and largemouth, smallmouth, striped, spotted, and white bass. The Little Missouri River tailwaters below Narrows Dam offer anglers the best fishing for rainbow trout and smallmouth bass. Northern pike and walleye are stocked in the lake, and the Little Missouri River is stocked with rainbow trout above and below the reservoir.
Search Lake Greeson Resources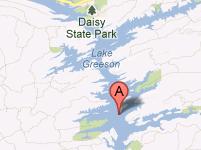 Coordinates:
34.2098N -93.7312W
Map It:
Lake Type:
Reservoir
Surface Area:
7,000 acres
Maximum Depth:
150 ft
Elevation:
548 ft
Normal Water Clarity:
3-6 ft
Major City:
Hot Springs
Airport:
Hot Springs