Greers Ferry Lake
Greers Ferry Lake is a reservoir created by the U.S. Army Corps of Engineers in 1964 by impounding the Little Red River with the Greers Ferry Dam. President John F. Kennedy made his last public appearance here to dedicate the dam and lake before that fateful trip to Dallas in 1963. Noted for its beautiful shoreline and deep crystal-clear waters, this lake provides excellent opportunities for camping, boating (including sailing), scuba diving, water skiing, and fishing.
Although this lake is noted as having 30,000 acres, the reservoir actually consists of two lakes connected by a gorge called "the Narrows." The surface area of both large water bodies and the Narrows equals about 40,500 acres. Many of the boat ramps were previous roads that led to a town named Higden, which is now located underwater.
Fishing

Greers Ferry Lake is a record-producing reservoir, currently home to the world record walleye at 22 pounds, eleven ounces. A state record 27-pound, five-ounce hybrid striped bass also was snagged from this lake. Almost every game fish native to Arkansas has been stocked in this lake by the Arkansas Game and Fish Commission, including healthy populations of bream crappie, and white and black bass.
The Little Red River also is known worldwide as a quality trout fishery. This river, located downstream from Greers Ferry Dam, includes brown, brook, cutthroat, and rainbow trout. In 1992, a world record brown trout weighing in at 40 pounds, four ounces, was taken from these waters.
Search Greers Ferry Lake Resources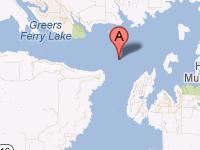 Coordinates:
35.5339N -92.1298W
Map It:
Lake Type:
Reservoir
Surface Area:
30,000 acres
Maximum Depth:
180 ft
Elevation:
459 ft
Normal Water Clarity:
3 ft
Major City:
Little Rock
Airport:
Little Rock