Pickwick Lake
Pickwick Lake is just one of many steps along the Tennessee River created by the Tennessee Valley Authority (TVA). This reservoir extends from the Wilson Dam in Florence, Alabama and creates part of the boundary between Alabama and Georgia before it ends in Tennessee with the Pickwick Dam at Pickwick Landing. Pickwick Lake covers 43,000 surface acres, and it serves as the designated north end of the Tennessee-Tombigbee Waterway, as it provides a water route to Mobile, Alabama and the Gulf of Mexico.
Fishing

TVA completed the PickWick Landing Dam in 1938 mainly for hydroelectric power, but anglers in this part of the lake can enjoy year-round access to crappie, bluegill, white bass, stipers, and sauger. Bassmaster lists Pickwick Lake as one of the best 100 bass fishing lakes in the country, and Pickwick Landing area offers several tournaments per year. Record fish caught across this lake include a seven-pound, 6-ounce sauger in 1973, a one-pound, nine-ounce river carpsucker in 1980, and a 1.6-ounce Atlantic needlefish in 2008. Other game fish include crappie, blue and channel catfish, and largemouth bass.
Another noted fishing spot is located in Alabama at the Colbert Fossil Plant discharge basin west of Sheffield. The warm water discharge from that plant attracts fish during cold weather. Anglers also favor the Wilson Dam tailwaters at the upper end of the lake for its record-producing smallmouth bass and catfish.
Search Pickwick Lake Resources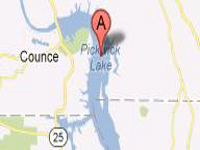 Coordinates:
34.8008N -87.6258W
Map It:
Lake Type:
Reservoir
Surface Area:
43,000 acres
Maximum Depth:
59 ft
Elevation:
413 ft
Normal Water Clarity:
3-6 ft
Major City:
Hunstville
Airport:
Hunstville